Sputtering Target
High Pure Metal Sputtering Targets | Alloy Sputtering Targets | Ceramic Sputtering Targets | Other Serve
Sputter Coating Method develop many years, and the technics had been perfect for almost coating materials. Our center can offer full serious sputtering targets( include metal sputtering target, alloy sputtering targets and intermetallics sputtering targets, ceramic sputtering targets) for college, university, scientific research lab and factory.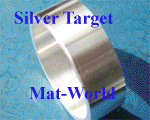 Fabrication method: There are many kinds of manufacture methods of sputtering targets, but all is by materials' performation. When material with lower melting point, we will melt by vacuum melting, cast, forge or Roll (for make the billet more high density), then machine. Some targets need manufacture by powder metallurgy method (for HIP,CIP, HP), sinter, forge, roll, then machine. Of course, some heat treatments are necessary. All our product will sure high density, high purity, uniformity grains, longer usefull time.
Application Field: Application are very widely, primary are packing coating thin film, decorate coating thin film, build coating thin film,autmobile widow coating thin film,optical coating thin film, electron field,display coating thin film, semiconductor field, automatization field, solar field, metical treatment field, functionality field coating... (Click will enter detail)
Sputtering targets sort (by raw materials):
1. Metal Sputtering Target: The fabrication methods of metal sputtering target primary is melting and powder metallurgy, then forge, roll, heat treatment, machine... All sputtering targt of our company will select raw materials, material uniformity, grain smaller, steady quality, competitive price.
Diamenstion: disk targets, column targets, step wafer targets (Dia<350mm, Thickness >1mm )
Rectangle Targets, Slice Targets, Step Rectangle Targets (Longth <1500mm, Witdh<300mm, Thickness>1mm)
Tube Target / Rotation sputtering Target (Outer Dia < 300mm, Thickness > 2mm)
(Click Enter Product List)
2. Alloy Sputtering Targets, Intermetallics Sputtering Targets:The fabrication methods of Alloy and Intermetallics Sputtering Targets is melting and powder metallurgy, then forge, roll, heat treatment, machine... All sputtering targt of our company will select raw materials, material uniformity, grain smaller, steady quality, competitive price.
Diamenstion: disk targets, column targets, step wafer targets (Dia<350mm, Thickness >1mm )
Rectangle Targets, Slice Targets, Step Rectangle Targets (Longth <1500mm, Witdh<300mm, Thickness>1mm)
Tube Target / Rotation sputtering Target (Outer Dia < 300mm, Thickness > 2mm)
(Click Enter Product List)
3. Ceramic Sputtering Target, Metal Ceramic Sputtering Target: The fabrication methods of Alloy and Intermetallics Sputtering Targets is melting and powder metallurgy, then forge, roll, heat treatment, machine... All sputtering targt of our company will select raw materials, material uniformity, grain smaller, steady quality, competitive price.
Diamenstion: disk targets, column targets, step wafer targets (Dia<300mm, Thickness >2mm )
Rectangle Targets, Slice Targets, Step Rectangle Targets (Longth <600mm, Witdh<300mm, Thickness>2mm)
Tube Target / Rotation sputtering Target (Outer Dia < 300mm, Thickness > 2mm)
(Click Will Enter Product List)
4. Other Compounds Sputtering Target, Special Component Sputtering Target, Custom-made Sputtering Target: The fabrication methods of Alloy and Intermetallics Sputtering Targets is melting and powder metallurgy, then forge, roll, heat treatment, machine... All sputtering targt of our company will select raw materials, material uniformity, grain smaller, steady quality, competitive price.
Diamenstion: disk targets, column targets, step wafer targets (Dia<300mm, Thickness >2mm )
Rectangle Targets, Slice Targets, Step Rectangle Targets (Longth <1200mm, Witdh<300mm, Thickness>2mm)
Tube Target / Rotation sputtering Target (Outer Dia < 300mm, Thickness > 2mm)
5. Assistant Materials, Serve of Sputter Coating: Our company offer many kind of backing plate, include Copper (Free oxide), Molybdenum, Aluminium, Steel... Also we can offer soldering of sputtering target and backing plate